Pradhan Mantri Kisan Samman Nidhi Yojana is an important scheme of the central government. In this scheme 100% distribution is done by the central government. Under this scheme, farmers are provided cash assistance of Rs 6,000 per year by the central government. Every year this amount is transferred to the account of farmers in three equal installments. Under this scheme, the central government has so far transferred a total of nine installments to the accounts of farmers. If you are also an eligible farmer and you have not yet registered under this scheme, then register before the release of the 10th installment. If your registration form is approved, you will get the next installment of Rs 2,000.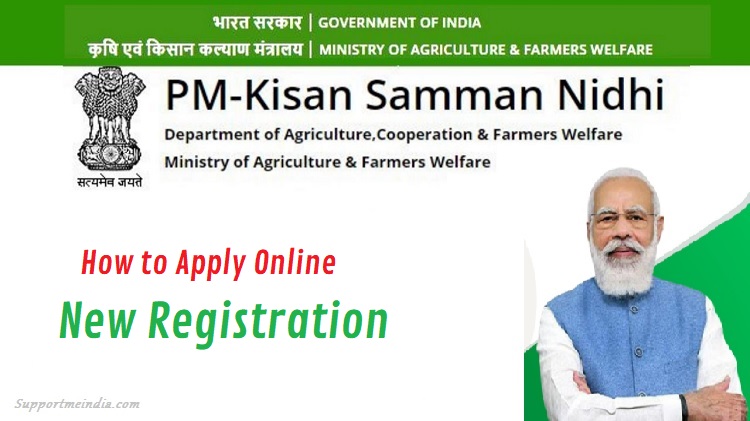 If you are eligible for pm kisan samman nidhi yojana and you have not registered for it yet, then it is your loss, you can go to the official website of pm kisan, pmkisan gov in (pmkisan.gov.in) as soon as possible. Must register.
Required Documents for PM Kisan Registration
You need the following documents to register for this scheme, which are as follows:-
Original land document
Applicant's bank passbook
Aadhar card
Voter ID Card
Passport size photo
Identity card
Driving license certificate
Full details of land
Residence certificate
It is mandatory to own at least 2 hectares of land etc.
If you think that you are eligible and can take advantage of this scheme, then without wasting time you should fill the application forum and submit it now. Its step-by-step information is given below.
PM Kisan Registration: How to apply online in PM Kisan Samman Nidhi Yojana?
The full name of this scheme is PM Kisan Samman Nidhi Yojana and it was started by Prime Minister Shri Narendra Modi. Its objective is to provide assistance to all farmers. Farmers who have 2 hectares of land, they will be given a total of Rs 6000 under this scheme. This scheme was launched on 01 January 2019. Under this, many farmers have been helped so far. So far 9 installments have been done, now the 10th installment is about to come.
You can register directly by visiting pm kisan gov in website. Its step by step guide is given below. You can complete the steps in 2 steps.
First stage:
Open the official website of PM Kisan pmkisan.gov.in in the browser of your mobile or computer.
Now on the right side you will get the option of "Farmer Corner".
In this Farmer Corner menu click on "New Farmer Registration".
Now a new page will open in front of you.
On this page you can select the language of your choice from the drop down list.
After that select the correct option between Rural Farmer Registration and Urban Farmer Registration.
Now enter your Aadhar number, after that enter your mobile number.
Now select the name of the state from the drop down list.
Confirm the captcha code and click on 'Send OTP'.
Now an OTP will be sent to your mobile number (which is linked with Aadhaar).
After entering the OTP, enter the captcha code and then proceed with the process.
Second Step:
If the OTP entered by you is found correct then a new page will open in front of you. On this page you have to select the language. After that the following steps have to be followed.
Select State, District, Sub-District, Block and Village from the drop down list.
Now enter farmer name, gender, category, farmer type, IFSC code, bank name, account number, complete address with mobile number, land registration number, ration card number, date of birth.
After that click on 'Submit for Aadhaar Authentication'.
Then enter the survey number and account number of the land.
Upload land details, aadhar card number and bank book.
Click on Self Fix Clearance Working Efficiency & Service Comfort.
In this way you can easily register on pm kisan samman nidhi yojana portal. Now if your registration is successful then you will get the next installment of pm kisan in the coming time.
If you do not know when the pm kisan 10th installment will be available, then its information is here.
To get more information about the rest of the pm kisan samman nidhi yojana, stay connected to our website. We will keep sharing information related to this from time to time.