When two hearts are filled with true intimacy towards each other, that relationship is called friendship. Friendship is a relationship that we build ourselves. In front of this bond, all the relationships of the world fade away, because if the friendship is true, then it recognizes the tears that have fallen in the ocean.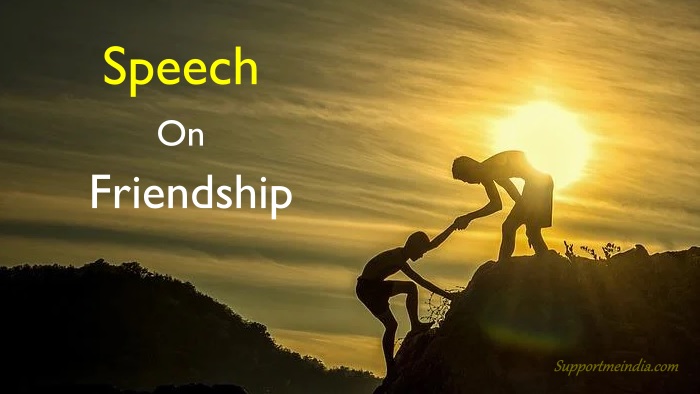 Friendship Day is celebrated to celebrate and strengthen this precious relationship. In this article we are presenting 'Speech on Friendship' which can prove useful for the students.
If you have to give a speech on the day of Friendship Day in your school, college or any other function, then according to your need, you can use the friendship speech written in simple and simple words from here.
Speech on Friendship (Speech Ideas for Friendship Day)
Good morning to everyone present here.
Today I have come here to give a speech on friendship. Friendship is one of the beautiful treasures that life gives us. It is a sensitive and delicate bond between two close persons. It is a divine relationship, which is very different from blood relations. We cannot choose our family, but we can choose our friends. Friendship is a special bond that gets stronger with time. We can share many of our feelings with friends.
Having good friends is like a blessing. Not everyone finds true and good friends. Friendship is like a rainbow sharing the colors of trust, mystery, love, sorrow, happiness, truth and respect between two hearts. It requires a lot of honesty, truthfulness and understanding between two people. True friends do not leave us in bad times. They always inspire and motivate us.
They also scold us if we do something wrong. Good friends always guide us on the right path. It is very difficult to imagine life without friends. The only thought of our friends leaving us scares us. This is the importance of friendship. In conclusion, I would like to say that it is very difficult to find true friendship. That's why we should appreciate it. True friendship is a boon to all.
Friendship Speech in English
A wonderful morning to one and all.
Distinguished dignitaries and spectators. It is my privilege to address you on this forum on the topic of 'friendship'.
Friendship is a gift from God. It is undoubtedly a heavenly thing. It is the cement of life that holds individuals and nations together. A true friend makes our life worth living and lovely. We know that a man without friends is a boat without a rudder. He is a helpless man at the mercy of the winds and the waves.
as the saying goes. "a friend in need is a friend indeed". Most of the happiness in real life depends on the choice of friend. If we know the number of true friends, we can make our hard work and troubles bearable and make life more enjoyable.
Life without a friend is boring and tiring. Finding a true friend is not easy. One can have thousands of horoscopes but not a single true friend. A true friend is a lot of money and a true investment in life. In short, if we are to have a true friend, we have to be a true friend ourselves.
Speech on Dosti
Good morning to Excellencies, respected teachers and my colleagues.
On this great occasion, I want to give a speech on friendship. I have specially chosen this topic to make my readers aware of the value and importance of friendship.
Friendship is the purest form of relationship that exists between two, three or more people. It is indeed a matter of luck to find a true, honest and loving friend in this world. True friendship is a special gift from God to any of us who receive it. True friends make our vain life meaningful and show us the true path of success in life, they are friends who make our life journey easy, joyful and lively. They never laugh at our mistakes but with constant support guides us on the right path.
True friends are always independent for their friends and are ready to help them in the difficult times of their lives even when they are busy with their busy schedules. Friendship is really a priceless relationship in this world which can never be bought or sold from anyone. It depends on the true love formed in the hearts of the people involved in the friendship. It never depends on the materialistic pleasures of the world. True friends are the real happiness of life who never forget each other and always support.
As a human being our life always comes with situational problems from time to time and difficulty in living a social life which needs emotional and moral support. In such a situation, our true friends play a big role and get us out of trouble. Life without a true friend is considered an incomplete life. It doesn't matter if you have a happy and wonderful life, but it matters when you don't have any true friends throughout your life.
A good friend is someone with whom we can share every small and big joys, troubles and problems of life without any hesitation. Friendship is a relationship that saves us from emotional problems as it encourages us to share our inner thoughts and feelings. True friends never criticize their friends but help them to come out from their shortcomings.
Whenever someone walks on the wrong path, he guides them like a tunnel of light. True friends always understand the absolute rights of the right path chosen. They take our every mistake seriously and try to show us the right path in the right direction. We can say that a true friend is more valuable than anything else in the world.
Speech about Friendship
Hello, First of all I would like to say many thanks to my class teacher who has given me such a great opportunity to speak on this occasion.
Friendship is one of the most precious and beautiful relationships in this world. This relationship is not a blood relation but is more than a blood relation. A relationship that we cannot describe in words. True and true friends become pillars of strength for us who always give us the necessary emotional support and physical support. True friends never hesitate to spend their precious time whenever their friends need help in bad moments of life. They feel the greatest happiness.
Finding true friendship in this world is very difficult but not impossible. We should not get tired and always look for good friends throughout life because it is difficult to find but not impossible. True friends always stay together throughout life and fulfill their responsibilities towards their family. Friendship is a lovely relationship which remembers us with sweet moments throughout life. We watch movies, listen to songs, watch TV serials, eat food, read and do other things together without any problem.
Some questions arise in everyone's mind like why are good friends important in life, why are true friends more valuable than other relationships in our life, the truth of this invisible bond that holds two or more friends for years. what is. What keeps us together throughout life, what lesson does a true friendship teach us is one such question. Trust is very important in everything but it comes naturally in the case of friendship.
True friendship lasts forever with mutual trust and proper understanding. As the relationship deepens and matures over time, trust and understanding grow. Sometimes our best friends hold more place in our hearts than our parents, brothers and sisters. We always believe in and follow our best friends.
Make decisions blindly with the belief that they never lead us down the wrong path. We always remember all the good moments with friends like sharing toys, favorite passion, lunch box, clothes, books, household chores etc. The habit of sharing with friends teaches us to be selfless and generous throughout life.
At last,
With the help of speeches presented in this article, you can prepare a great speech for friendship day etc.
It is very difficult to find a good friendship. So we should appreciate this divine connection. A true friend is met by luck, if you have a true friend then never let him go away from your life.
Also read:
Never ignore true friends because true friends support you in every walk of life.