10 Inspiration Quotes Jo Kuch Naya Karne Ko Majboor Kar De. 10 Inspire Quotes Jo Kisi Ki Bhi Soch Badal Sakti Hai. Agar aapko kisi kaam me man nahi lagta ya fir aap koi bhi work nahi karna chahate to is post ko dil se read karo. I sure post padhne ke bad aap kuch naya kaam karne ko majbur ho jayega.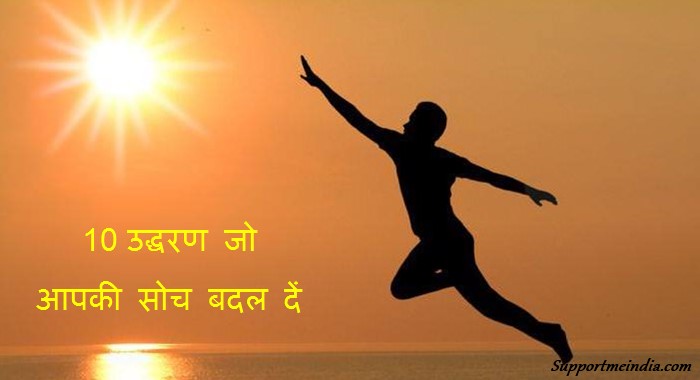 Dar or shaq se aapke kadam dagmaga sakte hai magar wo aapko raste se hata nahi sakte. Har insan kuch bhi kar sakta hai bas use jarurat hoti hai shuruat karne ki. Uske bad wo un uchaiyo tak pahuch sakta hai jo sab wo apni life me chahata hai. Inspiration Quotes isme aapki help karengi.
But kuch log hote hai jo scohte to bahut hai magar kuch kar nahi pate hai or apne aap me ya fir dusro me kamiya nikalte rahte hai. Isiliye main aaj aapko successful persons ki kuch aesi bate inspiraction quotes ke bare me btaunga jo aapko kuch new karne par bebas kar degi or aap action lene ko majbur ho jaoge.
10 Inspiration Quotes Jo Aapki Soch Badal Sakti Hai
Yaha main aapko jo kuch bate (Inspiration Quotes) btane ja raha hu wo itni effective hai ki agar aap inko sahi se samajh lete ho to ye aapki feeling aapki soch badal sakti hai or agle hi pal aap apne aapse kahoge ki main kuch karna chahata hu.
Quote 1:
Do You Want to Know Who You Are? Do Not Ask. Act! Action Will Delineate and Define You.
क्या आप जानना चाहते है की आप कौन हैं? मत पूछो। आपके द्वारा लिया गया action चित्रित और परिभाषित करेगा की आप कौन हैं?
Kya aap janna chahate hai ki aap kon hai? Mat pucho! aapke dwara liya gaya action delineate and define karega ki aap kaun hai.
Quote 2:
One Common Think in All Successful Peoples. The Were to Get Their Destination in every situation.
सभी सफल लोगो में एक बात समान होती हैं वो हर हाल में अपनी मंजिल को पाना चाहते थें।
Sabhi success logo me ek bat common hoti hai. "Wo sabhi har haal me apni manzil ko pana chahate the."
Quote 3:
Do You Know Why I am Successful in My Work? I Started Working on the Day I dreamed it.
तुम्हे पता है मैं अपने काम में सफल क्यूँ हूँ? मैंने उसी दिन काम करना शुरू कर दिया था जिस दिन मैंने इसका सपना देखा था।
Tumhe pata hai maine apne kaam me safal kyo hun, Maine usi din kaam karna shuru kar diya tha jis din maine iska sapna dekha tha.
Quote 4:
Action is the Antidote to Despair.
कार्यवाही निराशा की प्रतिद्वंदी हैं।
Action Nirasha ki Pratidwandi hai.
Quote 5:
Inaction Breeds Doubt and Fear. Action Breeds Confidence and Courage.
निष्क्रियता संदेह और भय को जन्म देती हैं जबकि कार्यवाही आत्मविश्वास और साहस।
Inaction fear and doubt paida karta hai jabki action confidence and courage.
Quote 6:
If You Want to Conquer Fear, Do Not Sit Home and Think About it. Go Out and Get Busy.
यदि आप डर को जितना चाहते हो तो घर पर बैठ कर इसके बारे में मत सोचो, बाहर जाओ और व्यस्त हो जाओं।
Agar aap dar ko jitna chahate ho to baith kar iske bare me mat socho, Bahar jao or busy ho jao.
Quote 7:
When Yo Do Not Work, People will call you useless, When You Do Any Work, People will Doubt You. But When You Succeed, people will Believe You.
जब आप कोई काम नहीं करोगे तो लोग आपको बेकार कहेंगे, जब आप कोई काम करोगे तो लोग आप पर शक करेंगे मगर जब आप सफल हो जाओगे तो लोग आप पर विश्वास करेंगे।
Jab aap koi kaam nahi karoge to log aapko bekar bolenge, Jab aap koi kaam karoge to log aap par shaq karenge or jab aap success ho jayenge to log aap par wishwas karna shuru kar denge.
Quote 8:
You Can Do Very Well, Let Your Performance Do the Thinking.
आप बहुत अच्छा कर सकते हो बस अपने प्रदर्शन को समझने की कोशिश करों।
Aap bahut achha kar rahe ho bas apni performance ko samajhne ki koshish karo.
Quote 9:
How Much Capacity Do You Have to Work, They Only Know After Work.
आपमें कार्य करने की कितनी क्षमता है वो आपके कार्य करने के बाद ही पता चलता हैं।
Aap me kaam karne ki kitni power hai wo aapke koi kaam anre par hi pata chalta hai.
Quote 10:
Whatever You Have to Do, Hurry Up. There Are Many People Who Do Before You.
जो काम करना है जल्दी करो यहाँ आपसे पहले सोचने और करने वाले बहुत हैं।
Jo bhi karna hai jaldi kar lo kyuki yaha aapke jaise sochne or karne wale bahut hai.
Ye thi top 10 inspiraction quotes jinko padhne ke bad aapko lagega ki hakikamt me mujhe kuch karna chahiye. I think is post ko padhne ke bad aapki soch badal gayi hogi or ab aap kuch karna chahate hai.
Har insan apni life zindagi me kamyab hona chahata hai but kisi na kisi wajah se wo ruka hua hai. Aapko bas jo karna hai wo aaj se hi shuru karna hai o kal ya bite waqt k bare me na socho.
Agar aapko ye 10 inspiration quotes wali post pasand aaye to ise social media par share jarur kare.