Teachers Day: A day to honor teachers. Teachers have a great role in everyone's life as teachers are the only source of knowledge for the students. Here we have come up with some essays on teachers day to help the students participating in the Teacher's Day essay writing competition on the occasion of Teacher's Day. Students can select Teachers Day Essay in English from here as per their requirements.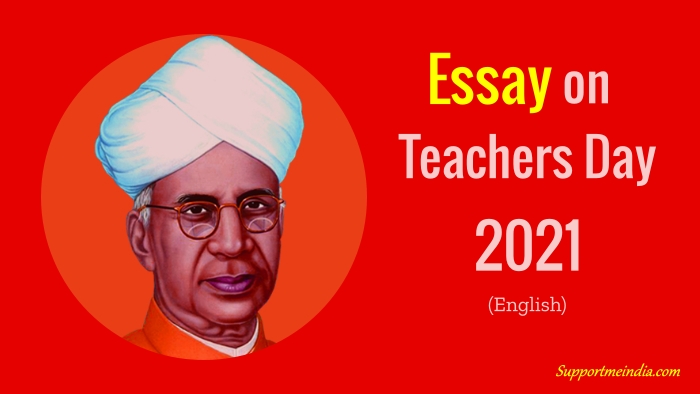 Teacher's Day is celebrated all over the world to thank teachers for their contribution and guide, honor and inspire teachers towards their work and to make students understand the importance of teachers and to show the important role of teachers in society.
A teacher is our friend and guide. To know what is the importance of teachers in our life, you go to the article below.
In this post, we are sharing 3, 4 short and simple essays on Teacher's Day. If you are a student and you need a Teachers day essay in English then you are at the right place.
Teachers Day Essay in English for Students
Teacher's day 2023 essay in English for students and children, Best simple, sample and short essay on teachers day in English, Teachers day essay for students.
Guru-Shishya tradition is going on in our country for centuries. Under this tradition, the guru gives education to his disciple. The word gu means darkness (ignorance) and the word ru means light (knowledge). In this way, the one who dispels the darkness of ignorance and spreads the light of knowledge is called a Guru. Guru has great importance in our life which is well known.
A teacher is a gift from God who always imparts knowledge of good and bad to the children in a non-discriminatory nature without any selfishness. After the parents, it is the teacher who lays the foundation for molding the children in the right form.
Teacher's Day is celebrated as Teacher's Day from 5 September 1962 on the occasion of the birthday of former President of the country, Dr. Sarvepalli Radhakrishnan.
On this day, children and youth in all schools and institutions celebrate Teacher's Day as a celebration. The parents of all the children help the children to meet their needs but the teachers help them to build their confidence and make their future bright. Without Guru there is no knowledge, this is not only a proverb but a fact.
Essay on Teachers Day in English
A teacher is a friend and guide in your life who gives us good values. Teachers try their best to transform the students into responsible citizens. Teachers play a very important role in each of our lives.
Teacher's Day in India is celebrated on 5th September.  1888 September 5, is the birthday of Dr. Sarvepalli Radhakrishnan, who was the second President of India. He was also a teacher and a philosopher. As a teacher, he was very friendly with the students.
When Dr. Sarvepalli Radhakrishnan became the President of India, some of his students wanted to celebrate his birthday on 5th September, to which he said that it would be his good fortune if this day is celebrated as Teacher's Day. Since then 5 September is celebrated as Teacher's Day.
Teachers teach us school subjects and also teach us the importance of discipline, hard work and many more. They try all their efforts so that we can be successful tomorrow, it is rightly said that teaching is a profession that creates many other professions.
Teacher's Day is celebrated in all schools to remember and appreciate the work of teachers. Various functions are done in the school for teachers and students on this day. Students give gifts to teachers on this day as a token of love, affection and appreciation.
Short Essay on My Favorite Teacher in English
If you need to speak or write an essay on your favorite teacher on the occasion of Teacher's Day then given here "Essay on my favorite teacher" will be useful for you. My favorite teacher essay in English for students, children and kids.
My favorite teacher is Mr. Vinod Sharma (change your teacher's name) who teaches us maths. He is a strict teacher but very helpful and patient. I like his way of teaching. He explains so that the concepts can be understood clearly.
He also encourages us to ask doubts. Shri Vinod Sharma is a disciplined and punchlike person. He makes sure that we complete our homework and project work on time.
He guides us during inter-school maths exhibition programs and other school activities. He never wants to forget those students who get good marks in their subject.
Along with school subjects, he also teaches us good morals and emphasizes becoming a person of strong character. He is really a very good teacher and always inspires me to do well in my studies.
Short and Smart Paragraph on Teachers Day
Teacher's Day is a festival dedicated to all the teachers. It is celebrated every year on 5th September to honor teachers all over India. 1888 September 5, was the birthday of the great teacher of India, Dr. Sarvepalli Radhakrishnan. He was a great teacher and former President of India.
He was well known for the contribution and role of teachers in the lives of the students. So he was the only one who not only thought of teachers but also requested to celebrate their birthday as Teacher's Day. Accepting his request, in honor of him and all the teachers, every year 5 September was celebrated as Teachers Day all over India.
Teachers are the real potters in the lives of students. He not only shapes the life of the student but also makes them capable that they not only remain illumined even after the darkness of the whole world but also illuminate others.
Students celebrate Teacher's Day with great joy and enthusiasm. Students start this day by congratulating the teachers. On this day, students in schools honor teachers through various programs. In the honor of teachers, they actively participate in programs like poetry, drama presentation, speech etc.
We cannot return anything for the priceless contribution of all the teachers but we can definitely give them respect and thanks. That's why we should take an oath from our hearts that we will always respect teachers.
It is impossible to define a teacher as the teacher has limited only to teaching or guiding the students in academics, but also helping the students to show the right path. He adds value to our character and makes us ideal citizens of the country.
At Last,
The short and easy essays given here will prove to be useful for the students participating in the Teacher's Day essay writing competition on the occasion of Teacher's Day. Also, through these, students will also know the importance of Teacher's Day, the importance of teachers etc.
If you want Teacher's Day Speech in English then go to the below article, in this article you will get the latest speech on Teacher's Day for students.
Read also:
If you like this post teachers day essay then definitely share it with your friends on social media.