Teacher's Day is celebrated every year in India on 5th September. On this auspicious occasion, we are sharing Teachers Day Speech in English for students. Using these speeches, students can show their feelings towards their beloved teacher by listening to them on Teacher's Day in their school, college. Teacher's day speech is written using simple and easy words.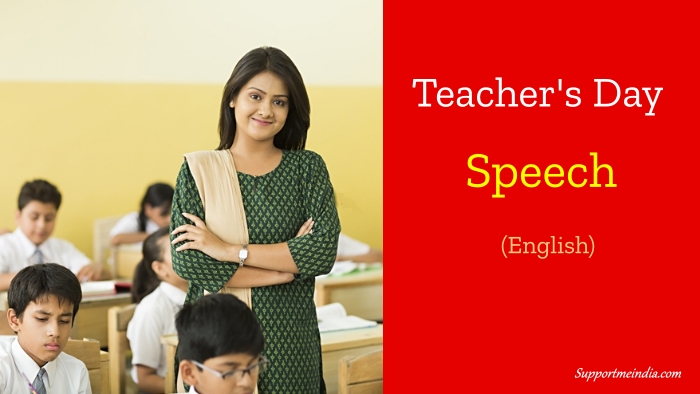 Teacher's Day: Actually this day is the birthday of Dr. Sarvepalli Radhakrishnan, who has made an unprecedented contribution in the field of education. That is why this day is celebrated in his honor on his birthday.
On this day, by giving a speech in the honor of their guru i.e. teacher, by speaking respectful things about them, their heads are held high with pride and they tell what is the importance of guru in their life.
The speeches we have presented in this article tell what is the importance of a teacher in the life of a student. By listening to these Teacher's Day speeches, you can become the best student in the eyes of your Guruji.
Teachers Day Speech (Best Speech on Teachers Day 2023)
Happy teacher's day 2023 speech in English for students, teachers, children, Best speech on teachers day, Long and short speech on teachers day, Teachers day speech writing, Teachers day speech by students, Sample speech for teachers' day in English, Easy and simple speech for teachers day 2023.
Speech 1:
Honorable Chief Guest, Respected Teachers and my dear friends,
As we all know that we are all present here to celebrate Teacher's Day. Today I am going to give you a small speech on the importance of teachers on the occasion of teacher's day. I request you to please listen carefully and calmly to this speech of mine.
Today is 5th September and we all know that today is Teacher's Day. We all celebrate Teacher's Day on 5th September every year. Today is Dr. Sarvepalli Radhakrishnan's birthday. Dr. Sarvepalli Radhakrishnan was a great teacher of eminence before becoming the President. That's why his birthday is celebrated as Teacher's Day all over the country.
Dr. Sarvepalli Radhakrishnan was not only the President of India but also a great teacher. This Teacher's Day is celebrated to pay respect to the teachers of our country on the day of Teacher's Day. Teachers play an important role in shaping the personality of the students and making the future bright and make them ideal citizens of the country.
Teachers love students as their own children. Teachers do not discriminate among students and pay attention to all students. Our parents send us to school to make us a good citizen of the country. However, our teachers take the responsibility to make our entire future bright and successful.
Along with providing knowledge in our life, teachers also give direction to life. A teacher is the source of knowledge. I request every student to follow the advice of teachers and become a good citizen of the country.
We thank all the teachers on behalf of all the students.
Speech 2:
Mr. Principal, teachers, dignitaries and dear friends.
My name is Imam Hussain, I welcome you all. Every year on 5th September, Teachers' Day is organized to pay special respect to the teachers. The birthday of Dr. Sarvepalli Radhakrishnan, the second President of India, is celebrated as the Teachers' Day of India.
By considering his birthday as Teacher's Day, we all express our respect to Dr. Sarvepalli Radhakrishnan.
Dr. Sarvepalli Radhakrishnan had lit himself like a candle and gave the light of teaching to his students to live life. That's why we celebrate his birthday as Teacher's Day.
Speech 3:
My salute to all my respected teachers and dear friends.
It is indeed an honor for me to express my views on this occasion today.
As we all know, today on 5th September we all have gathered here to celebrate Teacher's Day, commemorating the birthday of Dr. Sarvepalli Radhakrishnan who was a great teacher, the first Vice President of India and the second President of the country.
This day is celebrated all over the country by the students to thank their teachers for their incredible support and guidance.
Needless to say that parents give birth to a child, whereas teachers play a major role in making that child an ideal citizen through education.
It is true that teachers are the source of knowledge and wisdom. They guide us so that we can develop our skills. They help us to realize our potential.
We cannot ignore their efforts. Therefore, at the end of my speech, I would like to say that we should always respect the teachers and appreciate their hard work.
Thank you very much.
Speech 4:
Honorable Headmasters, Teachers and My Classmates,
Wishing you all a very Happy Teacher's Day. On this auspicious occasion, I am sharing some thoughts related to my teachers with you.
The service spirit of teachers is unique and different from all other services. In many other services, such as people working in offices, factories and other institutions, people are mostly concerned with papers, machines and another inanimate.
But teachers are related to children whose minds are always jumping. Keeping the mind of the children under control and imparting knowledge to them, only a skilled teacher can do.
The parents of the children studying in the school have the same hope from the teachers that their child should come first in the class. But not all children have the same mental development.
Because of this many times, teachers also have to face inappropriate words spoken by the parents of the students. Therefore, teachers should act with patience and humility.
Students put maximum trust in their teachers. Every word uttered by the teacher gets memorized in his mind. That's why teachers should always keep increasing their knowledge.
Dr. Sarvepalli Radhakrishnan whose birthday is celebrated as Teacher's Day. He once said that a qualified teacher is the one in whom a student lives. We expect from a teacher that whatever he says is correct, pure and true.
A teacher is like a craftsman who imparts the right knowledge to his students and makes them worthy citizens. Therefore, teachers have an important role in making any country great and proud.
Teachers do a great job by always giving students the belief that they can do something, they can become something. Teachers raise the behavior of children through their creative ideas.
Their goal is to bring changes in the lives of their students with their thoughts and take them to heights.
My salutations to all such teachers on this auspicious occasion. Thank you!
Speech 5:
Respected Principal, Teacher and my dear classmates
Wishing you all a very Happy Teacher's Day. Teachers are considered the pride of any country and community. To pay respect to these teachers, we celebrate the 5th of September every year as Teacher's Day.
The tradition of celebrating Teacher's Day on 5 September started in 1962. When Dr. Sarvepalli Radhakrishnan, one of India's most qualified teachers, became the second President of the country.
Sarvepalli Radhakrishnan was born on 5 September. He urged that instead of celebrating his birthday, this day should be celebrated as Teacher's Day so that we can give due respect to the teachers of the country.
There is no doubt that the teacher is the only person in the society who prepares them for the development and progress of the country by giving proper education to the coming generation.
The credit of creating quality in the country's politicians, scientists, doctors, artists, farmers, traders, laborers, soldiers, engineers etc. goes to the teachers.
Therefore, it is the right of every person and government of the country that teachers should get a worthy place in the society and their economic condition should be improved.
Perhaps no one else plays as much role as a teacher in the character building of the country. So it is our duty so much that we wish the teachers good luck and give all the teachers in the society worthy and respected.
Every teacher constantly keeps on increasing his knowledge so that he can give the best education to his students. He constantly strives to be a source of inspiration and a guide to his students.
5th September Teachers Day is a day on which some students get the privilege of playing the role of teachers. Wearing colorful suits, kurta pajamas, salwar kurtas and saris, students feel a unique experience while playing the role of their teachers.
If we raise the social and economic level of teachers, then we can expect that these students of ours who become teachers for one day, in the future, these students will increase the pride and honor of the country by becoming high-level teachers.
On my behalf and like all the students of the world, I wish all the teachers of the world a very Happy Teachers Day 2023.
Last Word,
These were the speeches on Teacher's Day, which have been written using easy language and simple words for the students of all classes. By speaking these speeches in your school, college, you will increase the respect of the teachers as well as win a lot of applause.
If you want to know why Teachers Day is celebrated, then go to the article below.
Read also: Why is Teacher's Day celebrated?
If you like this article, then give your 2 seconds to share it on social media.