Janmashtami Essay: Janmashtami festival is celebrated as the birthday of Lord Krishna. This festival is celebrated all over the world. Janmashtami is celebrated not only in India but also in Indians settled abroad with full faith and reverence, Shri Krishna Ji has been the center of our faith for ages.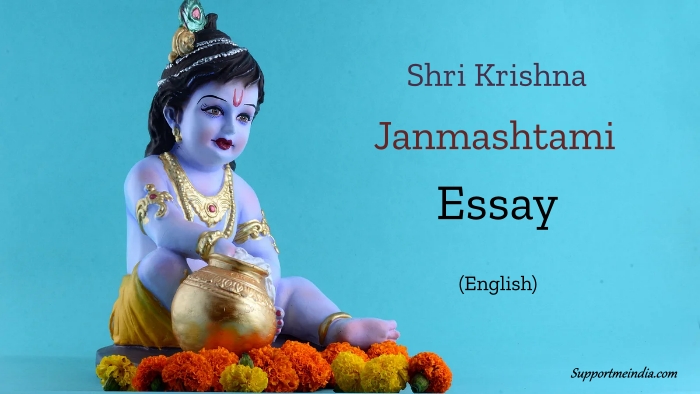 Janmashtami has a lot of importance in human life. It can be guessed from the fact that its fast in the scriptures is called Vratraj. By observing fast on this day, one gets the fruits of many fasts. Worshiping Shri Krishna on this day leads to the attainment of children, longevity and happiness and prosperity.
Why Janmashtami is celebrated: Shri Krishna was the 8th son of Devaki and Vasudeva. The king of Mathura city was Kansa, who was very tyrannical. His atrocities were increasing day by day. One day there was a voice from Akash that his sister Devaki's eighth son would kill her. Hearing this, Kansa put his sister in the dungeon along with her husband.
Kansa also killed Devaki's seven children before Krishna. When Devaki gave birth to Krishna Ji, Lord Vishnu ordered Vasudev to bring Krishna Ji to Yashoda Mata and Nanda Baba in Gokul.
He was brought up under the care of Yashoda Mata. Since then Janmashtami is celebrated every year in the joy of his birth.
There is a law to observe fast on the day of Janmashtami. Fruits should be eaten according to one's ability. No god tells us to be hungry, so keep fast according to your faith.
Not eating anything during the whole day can have a bad effect on your health. So we should adopt the messages of Krishna Ji in our life.
In this article, we have presented small, big and simple essays on the festival of Janmashtami which can prove useful for the students.
Krishna Janmashtami Essay in English
Happy Shree, Shri Krishna Janmashtami 2023, Janmashtami essay in English, Best, simple, short and long essay on Janmashtami for students and children, Essay on Janmashtami festival 2023.
The festival of Janmashtami is celebrated on the eighth day of Krishna Paksha in the month of Bhadon. Five thousand years ago today, Lord Krishna was born on this day. It is a religious festival celebrated in the memory of Shri Krishna.
On this religious festival, the Sanatani people keep fast with great love and reverence. At night, they go to the temples of God and do worship and bhajan-kirtan.
At midnight, at the time when Shri Krishna was born, conch shells, bells and gongs are played in the temples, and prasad is distributed. By taking this prasad, people break their fast.
On Janmashtami, swings and tableaux are displayed at many places in villages and cities. On this occasion in the villages, different types of sweets etc. start making from the day before. Confectionery shops are decorated in the cities. The beauty of the temples is especially visible in Mathura and Vrindavan. In so many temples and religious places, the unbroken recitation of the Gita takes place on this day. The temples are lit with colored bulbs.
This great festival has a lot of importance in Indian life. The festival of Janmashtami gives us spiritual and cosmic messages. It paves the way for new inspiration, new enthusiasm and new resolutions every year. It is our duty to observe the fast of imbibing the qualities of Lord Shri Krishna on the holy day of Janmashtami and make our life meaningful.
Short Essay on Janmashtami for Students and Children
Short essay on Krishna Janmashtami for children, kids, Small essay on Shri Krishna in English.
Janmashtami is a Hindu festival and is celebrated with pomp all over India. Janmashtami is celebrated as the birthday of Lord Shri Krishna. Lord Krishna's birthday falls in August or September. Shri Krishna is considered to be an incarnation of Lord Vishnu.
Lord Krishna was born in Mathura and was born at midnight. Shri Krishna was the eighth son of Devaki and Vasudeva. In India, the Jhakis of Shri Krishnaji is decorated at different places and Ras Leela is also organized.
On this day, the Dahi-Handi competition is organized at various places across the country. As soon as Lord Krishna is born at twelve o'clock in the night, the aarti is read and offered to the Lord. This festival is a symbol of our faith in Lord Krishna.
Essay on Krishna Janmashtami Festival in English
Short paragraph on Janmashtami festival, English essay on Janmashtami 2023.
Krishna Janmashtami is also simply called Janmashtami or Gokulashtami. Janmashtami is a very big festival, which is celebrated with great gaiety all over India. On this day people decorate the temples with flowers and lights.
On the day of Janmashtami, those who are unable to go to the temple celebrate the birth of Krishna with gaiety in their homes. Krishna was the incarnation of Lord Shri Vishnu who had incarnated to put an end to the evil in the form of Kansha.
This festival is celebrated on the Ashtami date of Krishna Paksha of Bhadrapada month after Rakshabandhan. On this day Dahi Handi, Raas Leela and other celebrations are organized for the grand celebration in the devotion of Lord Krishna.
The tableaux of Shri Krishna are placed all around in this festival. This festival gives us the message that we should always try to develop mankind and we should try to walk on the path shown by Shri Krishna.
At last,
These Janmashtami essays given here will prove useful for the school students who have participated in the Janmashtami essay writing competition.
If you are looking for Shayari on Janmashtami then you go to our article below.
Also read:
If you liked the article of Janmashtami essay then do share it with your friends on social media.