Essay on Gandhi Jayanti: The birthday of Mahatma Gandhi is one of the important national events of India. 2 October is celebrated as Gandhi's birthday. To understand the life of Gandhiji, we are sharing here essays on Gandhi Jayanti in simple and easy language. Students can use these in school, college essay writing competitions on various occasions. Gandhi Jayanti Essay In English for Students 2023.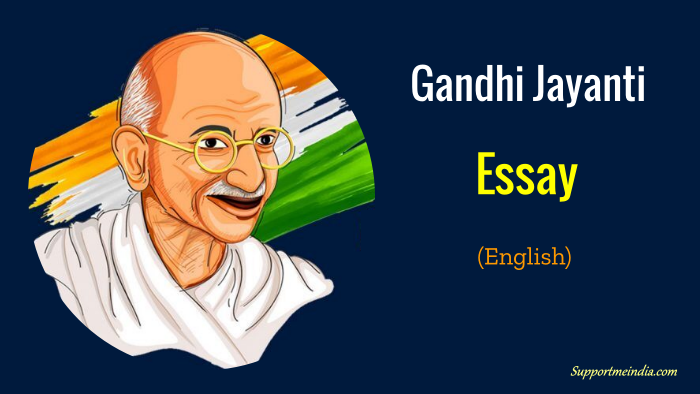 Our Father of the Nation Mahatma Gandhi was a great man, a patron of humanity. He was a priest of truth and non-violence, he was a great freedom fighter of India's independence. He was born on 2 October 1869 in the city of Porbandar.
Here we are sharing "Essay on Gandhi Jayanti" which you can use on the occasion of Gandhi Jayanti in your school, college, etc.
The Gandhi Jayanti essay given here is for the students. All the students can use these as per their requirements.
Gandhi Jayanti Essay 2023 (Best Essay on Gandhi Jayanti In English)
Happy Gandhi Jayanti essay in English for students and children, Best essay on Gandhi Jayanti, essay on Gandhi Ji, Paragraph On Gandhi Jayanti, Gandhi Jayanti 2023 essay, short and long essays on Gandhi Jayanti, Simple essay on Mahatma Gandhi, 2nd October Gandhi Jayanti essay writing, about Gandhi Jayanti in English.
Essay 1
Mahatma Gandhi Jayanti is celebrated as a national event across India on 2nd October. This day is celebrated all over the world as Non-violence Day. Mahatma Gandhi contributed tirelessly and undoubtedly to India's freedom struggle for independence. Mahatma Gandhi was a priest of truth and non-violence. Through truth and non-violence, he paved the way for India's independence from the British.
Mahatma Gandhi was called the father of the nation. We also call him Bapu. He was the center of hope not only for India but for the world. Mahatma Gandhi made a significant contribution to India's freedom struggle against the British. Rather, his symbolic vision inspired people around the world to raise their voices against any form of discrimination.
Gandhi's most inspiring quote "If you want to know yourself, immerse yourself in the service of others." Which shows his significant selfless contribution. The great man Mohandas Karamchand Gandhi was born on 2 October 1869 in Porbandar, Gujarat in a Hindu family (parents Karamchand Gandhi and Putlibai).
Gandhiji was the leader of truth and non-violence. He started the Satyagraha movement for the Indian freedom struggle. He played a very important role in getting India independence from British rule. Gandhiji proved to the world that freedom can be achieved only through the path of non-violence.
Essay 2
Mahatma Gandhi needs no introduction. Introducing them is like showing a lamp to the Sun. He was one of those great men of our country who prepared a new history of national life. Our freedom and India's independence are because of him.
Mahatma Gandhi was born on 2 October 1869 in a city called Porbandar in Gujarat. Gandhi's father Karamchand Gandhi was the Diwan of the princely state of Rajkot. His mother Putlibai brought him up very well. Gandhi's real name was Mohandas Karamchand Gandhi. Later on, he became famous as Gandhiji, and today we call him Father of the Nation and Bapu.
Gandhiji started his studies at a school in the village. There was a time when Gandhiji was addicted to bad habits like drinking alcohol, stealing, eating meat but later he gave up all these habits.
Once Gandhiji went to South Africa due to some trial, where he had to face many troubles. Gandhi saw that Indians were not being treated well there. Due to which Gandhiji was greatly hurt. Bapu Ji started "Satyagraha" there in which he also got success.
When Mahatma Gandhi came to India in 1914, he saw the poverty and slavery of the country. Saw the tyranny of the British and their brutal rule. Gandhiji decided to serve the country at that time and got involved in freeing his country from the British.
In 1917, he started opposing the atrocities of the British. Gandhiji started the first Satyagraha movement against the British in Champaran. People supported and welcomed him. The great revolution of 1942 took place, the whole country became aware of Gandhi's slogan of doing or die. With this slogan of Gandhiji, the British put many leaders in jails.
But still, the people inspired by Gandhiji did not stop and did not bow down to the British. After losing their struggle, finally on 15 August 1947 AD, the British had to leave India by liberating India.
On 30 January 1948, the father of the nation, Bapu Ji, who liberated the country, was assassinated by a person of the country, Nathuram Godse, with a pistol. But even today, Gandhiji fills a new spirit in our lives.
He is immortal even after death.
Essay 3
Gandhi Jayanti is one of the three most important national events in India. This festival is celebrated with great enthusiasm all over India to remember the birthday of our Father of the Nation. The main purpose of celebrating Gandhi Jayanti is to pay respect to Mahatma Gandhi Ji who got us freedom from British rule.
This day is also known as the International Day of Nonviolence. October 2 has been declared a national holiday by the Government of India. All educational institutions, banks, and companies, etc. remain closed on this day. Also, all bad activities like selling liquor are strictly prohibited on this day because Bapu Ji was strictly against these things.
Activities including prayer, drama, and speech recitation are organized in schools, colleges, and other educational institutions during Gandhi Jayanti. Gandhi Jayanti speech and quiz competitions are also organized at various places. Prizes are also given to the best performers in the competitions.
On Gandhi Jayanti, all government offices, schools, and colleges are decorated with photographs and images of Gandhi Jayanti. First of all, the cremation ground is decorated with garlands and flowers. After that wreath is offered to our great leader. After that Bapu Ji's favorite bhajan is sung.
According to Gandhiji, truth and non-violence are the only means of achieving freedom. He went to jail several times. Mahatma Gandhi considered everyone equal in society and was against untouchability. Gandhi has now become a role model and inspirational leader for the youth. Great leaders like Nelson Mandela praised Gandhi's principle of non-violence for freedom.
Gandhiji did a great job to achieve Swaraj. He improved the economic condition of the farmers and also eradicated other social evils like untouchability. She also supported women's empowerment. Gandhi led various movements like the Non-Cooperation Movement, the Dandi March, and the Quit India Movement. All these movements were successful and the youth supported them immensely.
The main objective of celebrating Gandhi Jayanti is to pay respect to Mahatma Gandhi and make people aware to distribute the principles of Gandhi and follow in the footsteps of thoughts and beliefs. This is how we pay tribute to our Father of the Nation every year.
Essay 4
There have been some people in India who can never be forgotten and they can never be compared with any other person. One of them was Mahatma Gandhi, who we also call the Father of the Nation or Bapu. He was a great man who freed our country from British rule through his method of truth and non-violence.
To pay tribute to our Father of the Nation Mahatma Gandhi in India, his birthday on 2nd October is celebrated as Gandhi Jayanti every year. It is one of the three national festivals of India (15 August Independence Day, 26 January Republic Day, and 2 October Gandhi Jayanti).
The real name of Mahatma Gandhi was Mohandas Karamchand Gandhi. He was born on 2 October 1869 in a Hindu family in Porbandar, Gujarat. His father's name was Karamchand Gandhi who was also a political figure. His mother's name was Putlibai, she was a religious woman. At the age of 13, he married Kasturba Gandhi.
He was a very honest and true love since childhood. He completed his law studies in London and practiced from South Africa. Gandhi worked as a lawyer and public activist in South Africa from 1893 to 1914. In South Africa, he encountered people of color.
Once he was thrown out of a train in Pietermaritzburg because he was not allowed to transfer from the first-class compartment. They protested the act and the next day they were allowed to go to the first compartment.
Many such incidents happened to Gandhi in South Africa and then he decided to extend his time to other Indians living there to raise his voice against discrimination.
Gandhi returned to India in 1915 at the request of Gopal Krishna Gokhale (leader of the Congress Party). Gandhi joined the Congress party and took over the leadership in 1920. Gandhi played an important role in freeing his country from British rule by following the path of non-violence and truth.
He was a great supporter of the truth, peace, and non-violence. At the same time, it was a great example of simple living and big thinking for us. During his war with the British for India's independence, he implemented various protests under different names such as the Satyagraha movement in 1930.
In 1942, he started the Quit India Movement, which the British tried hard to stop. Because of which the British shot Indian freedom fighters, were arrested. The Quit India Movement was the most effective and strongest for Indians.
After that Gandhiji gave the slogan "Do or Die" to demand the end of British rule in India. Finally, on 15 August 1947, the British Empire had to end its rule in India.
Mahatma Gandhi was assassinated on 30 January 1948. A Hindu nationalist Nathu Ram Godse fired three bullets in the chest of Bapu Ji and spread sorrow and darkness in the whole country. Nathuram and his accomplice Narayan Apte were hanged on November 15.
Essay 5
Every year on 2nd October, the birthday of our Mahatma Gandhi is celebrated with great enthusiasm all over the country as Gandhi Jayanti.
Gandhi Jayanti is mainly celebrated at two places, one where Mahatma Gandhi was assassinated and the other where the rites were performed (Rajpat, New Delhi).
Garlands of flowers are placed on the statues of Mahatma Gandhi and Bapu's favorite song "Raghupati Raghav Raja Ram" is sung.
The President and the Prime Minister along with other political leaders pay tribute to Mahatma Gandhi at Raj Ghat, the Samadhi of Mahatma Gandhi in New Delhi.
In the end,
Our Father of the Nation Mahatma Gandhi was a great man. We will never forget his sacrifice for the country. He has sacrificed his life on the path of truth. Our future generations will also remember his works.
To remember his great works and to make our younger generation aware of Gandhi's contribution, we celebrate Gandhi's birthday on 2nd October as Gandhi Jayanti.
The essays written by us here on Gandhi Jayanti will prove useful for school students and other countrymen.
Read also:
If you find a useful essay on Gandhi Jayanti in this article, then definitely share it on social media.