Tamil Nadu state government has recently launched an app called TN EMIS to maintain all the data related to students, school profiles and school staff. EMIS is an educational app launched by Tamil Nadu School Educational Management. Education is the most important part of our life which should go on.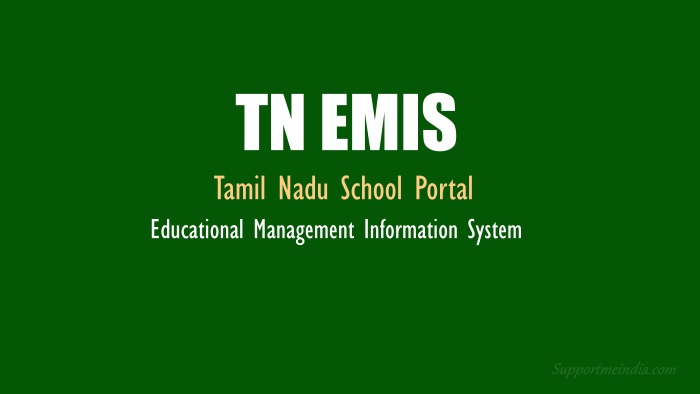 Keeping the education in mind, the educational management of Tamil Nadu has created the tnschools.gov.in online portal. Students can learn very easily by logging on to EMIS School Portal. Even, can upload school related data to state education department using TN official website or TN EMIS application.
Through the official website of the Government of Tamil Nadu, students can get access to online courses, training modules, learning videos, etc. Teachers can also provide quality education through this portal.
What is EMIS?
EMIS is an online application created by the Government of Tamil Nadu to handle the Educational Management Information System. This school is the backbone of the Department of Education, Government of Tamil Nadu which is started with the aim of education system.
This Tamil Nadu Educational Management System makes it easy to operate data for the welfare of all the stakeholders of the department.
With the help of EMIS School App, teachers and schools can upload student attendance, teaching and non-teaching staff data. Every day the data of the students is updated on this portal and the coordinator has a different responsibility which can be summarized here.
Under this app a unique code of 8 number is generated for each school which is also known as Amis number. Through which teachers and students can also access this portal.
Also four sections have been given on this website.
E-Learn: Thousands of digital content is available here for students to learn anywhere, anytime.
Tamil Nadu Teachers Portal: Apart from students, there are also resources for teaching and learning for teachers.
Public Participation Portal: Through this portal old students of government schools and public can participate in the improvement of government schools.
School Education Department: Under this section, can visit the official website of Department of School Education, Government of Tamil Nadu.
TN EMIS Application
EMIS is a new technology preferred by students as well as teachers. TN EMIS APP New Version is very informative and easy to handle. But many times users have to face problems due to server failure in rural areas. With future updates this problem will go away.
Right now, the TN EMIS app is only available for Android devices. Soon, will be available for iOS devices as well. Android users can download the TN EMIS application from the Play Store.
The full name of this app is TN EMIS and its purpose is to store school data online and provide quality education to the students.
The full form of EMIS is Educational Management Information System and it is beneficial for the students as well as the teachers. Both teachers and students can login to this portal. Its official portal is emis.tnschools.gov.in. TN EMIS helpline number ((044) 2567-2790) is also available.
How to Register on TN EMIS School Portal
If you live in Tamil Nadu state and want to register on this portal then you can follow these steps for that.
Firstly, visit the official website of Tamil Nadu EMIS Portal.
After that you will see the link of New School Registration on the homepage of this site. In which you have to enter your name, email and mobile number. Also the school management has to be selected.
After that you have to click on submit button but before that make sure that the details entered by you are authentic.
Simply, after submitting your registration details will be sent to your registered email address. After that you can login to this portal.
You can also contact Amis Management in case of any problem. After registering you can login to this portal through your email id and password.
Conclusion,
Dear students and respected teachers, here we told you about TN EMIS School Portal and EMIS App. If you live in the state of Tamil Nadu then this information will come in handy for you.
You can register and login to the TN EMIS portal by following the steps given in this article.
Read Also:
If you liked this information, then do not forget to share it with your friends on social media.