If you are willing to work in Railway department, then you can work as an IRCTC agent. The job of Travel Agent is to book and distribute tickets. Also, an Ticket booking agent can book unlimited railway tickets. Even, he can book Tatkal, General Ticket after the stipulated time. As an IRCTC travel agent, you get a fixed commission on every ticket. This work can prove to be a means of employment for you. If you want to become travel Agent then on this page you will get complete information about IRCTC travel agent.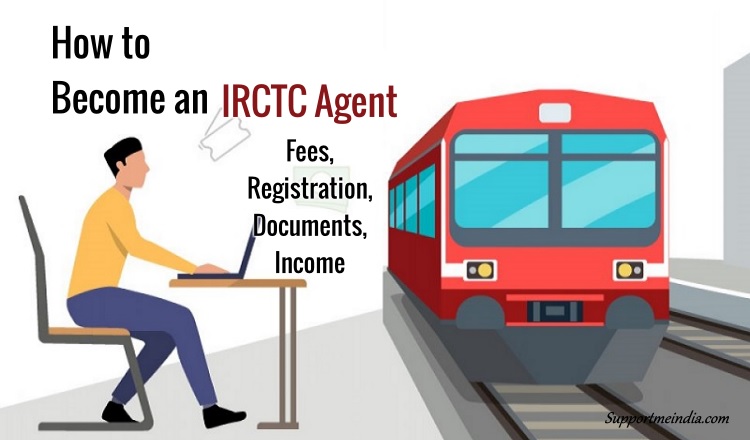 If you want to start your own business/work. If you are willing to work with any government agency then you can work in Indian railway company IRCTC. Although IRCTC provides many types of services but its ticket booking service is very easy and popular service.
If you want, you can earn good money every month through ticket booking on IRCTC website. The people who do the work of booking tickets are called ticket booking agents. For the work of ticket booking, this company has kept the commission. Ticket booking agents earn good commission by booking each ticket. You know that every day lakhs of people travel by train, they all need to book tickets. Hence, today there are opportunities for the youth to make a career in ticket booking.
If you want to do this job then you have to get complete information about it, after that you have to apply for it. Here we are talking in detail about how to become an IRCTC agent, fees, eligibility, registration, documents, process, benefits and salary/income etc.
How to Become an IRCTC Agent?
To become an IRCTC travel agent, you have to register on the erail.in portal. After that if you have to deposit the prescribed fee and go through its process. After that you can start your business by working as IRCTC agent.
Registration Process
You can register by visiting its official website erail.in. In the registration form, one has to fill the necessary information in the application form. After filling all the information correctly, you have to submit the form.
After that, Railway officials verify the information provided by you. If your information is verified then you can work as an IRCTC travel agent.
Here we tell you in details, what information you have to fill about yourself in the registration form.
First of all, you have to go to the official website of Railway IRCTC Department, the link of which we have given you above. After visiting this site, you have to click on registration in the Travel Agents section below, after that you have to fill your details in IRCTC travel Agent Registration Form.
Name –
Shop/Business name –
Mobile number –
Email –
PAN Card details –
Shop/Business address –
City –
Pincode –
State –
After filling all the details correctly, you have to click on the submit button. After that your request will be forwarded to the leading service provider of IRCTC. You can work as an Ticket Booking Agent once your request is recognized.
In this way you can easily register for travel agent authorized by IRCTC.
Fees to become IRCTC Travel Agent
To work as an IRCTC agent, you have to pay 30 thousand rupees as fees. However, out of them 20 thousand rupees are deposited as your security money which is returned to you later.
Here we tell you about the documents required to apply for Railway Ticket Booking Agency.
Required Documents
Address proof
Passport
Driving License
Latest telephone, lic or light bill
Ration Card, Bank Details or Voter ID
Service tax
Contact number
Valid email id
2 passport size photo
After filling the registration form and depositing the fee, the IRCTC team will contact you and complete your kyc subscription process. After that, an e-token will be generated for you. Then the email, mobile number and shop / business address will be verified. An otp will come on your mobile number for verification.
After this you can login for irctc service. After login you will be provided with a training and you will be given a welcome kit. In this way you can register for IRCTC and work as ticket booking agent.
IRCTC Agent Income
The commission for an IRCTC travel Agent is Rs 20 to 40 per PNR (non-ac) and pg (ac class) charges. If an Ticket booking agent makes a transaction more than the prescribed rupee, then he gets 1% more commission. There is no limit on the number of tickets booked by an railway ticket booking agent in a day or in a month. You can earn around 50 thousand per month as an irctc travel agent or even more.
Here we gave you information about IRCTC travek Agent. Like, how to become an railway ticket booking agent, its fees, registration process, required documents etc. Also, we talked to you about the estimated earning of IRCTC ticket booking agents.
Read also:
We hope that, you must have got complete and correct information about IRCTC Agent in this article. If so, then do share it with your friends on social media.