Diwali 2023: Deepavali Date, Time, History, Puja Timings: Among all the festivals celebrated in India, Deepawali has great importance both from the social and religious point of view. It is also called Deepavali, Divali or Deepotsav. 'Tamaso Ma Jyotirgamaya' means (O Lord!) Lead me from darkness to light. This is the command of the Upanishads. It is also celebrated by the people of Sikh, Buddhist and Jain religions. People of Jainism celebrate it as the salvation day of Mahavir and the Sikh community celebrates it as Bandi Chhor Diwas.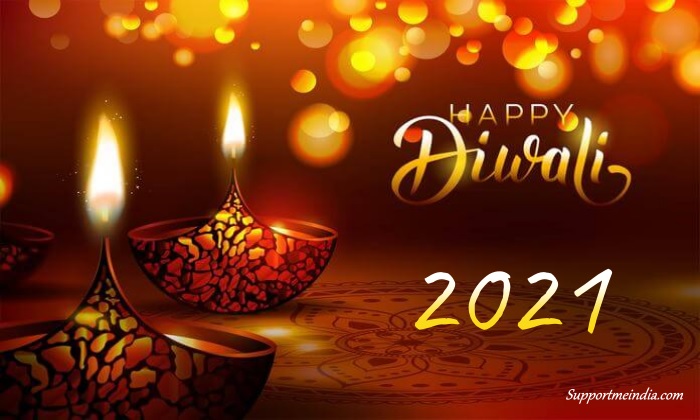 Diwali is an ancient Sanatan culture festival celebrated every year in the autumn (Northern Hemisphere). Diwali is celebrated on the new moon day of Kartik month. Deepawali is one of the biggest and most important festivals of India. Divali is the festival of lights. Spiritually it represents the 'victory of light over darkness'.
Diwali 2023
Diwali 2023 (Deepawali 2023) is on Thursday 4 November in India. The date of Diwali is determined by the Indian calendar and varies from October to November every year. It is celebrated on the 15th day of the 8th month (the month of Kartik) in the Indian calendar. The day is an new moon or 'new moon day'. Amavasya Tithi (the period when the Moon opposes the sunlight by 12 degrees) is from 6:03 am on 4th November to 2:44 am on 5th November in 2023.
Goddess Lakshmi (God of Wealth) is mainly worshiped during Diwali Puja for happiness, prosperity and fame. For Diwali 2023 in Delhi, Lakshmi Puja Muhurta (best time to perform Lakshmi Puja) is 1hr 55min from 6:09 PM to 8:04 PM on 4th November. Dipavali is derived from the Sanskrit word Deepavali which means 'line of lamps'. It is one of the most important festivals in India, marking a new year, and is often compared to Christmas in the West.
The celebration of Diwali 2023 lasts for 5 days:
Diwali Day 1: November 2, 2023 Dwadashi - Dhanteras
Diwali Day 2: November 3, 2023 Trayodashi - Choti Diwali
Diwali Day 3: November 4, 2023 Amavasya - Deepawali
Diwali Day 4: 5th November, 2023 Pratipada - Padwa
Diwali Day 5: 6th November, 2023 Dwitiya - Bhai Dooj
Diwali 2023 Calendar of 5-Day Celebrations
Diwali celebrations take place over 5 days, with each day usually having different rituals and traditions. Below we have listed all the days of Diwali with their calendar dates and a brief description of what happens on each day:
Day 1: Dhanteras: November 2, 2023 (Tuesday) Dwadashi
It is the first day of the festival when people clean their homes and prepare for the events ahead. It is also a busy day of shopping, when it is considered lucky to go to the markets and buy gold or new kitchen items.
Day 2: Choti Diwali: November 3, 2023 (Wednesday) Trayodashi
The second day is when people start decorating their homes. Many families will light string lights and start making their own rangolis, which are intricate designs placed on the floors of homes.
Find out more about Diwali traditional decorations here.
Day 3: Diwali and Lakshmi Puja: Amavasya November 4, 2023 (Thursday)
The most important part of the celebration is the rituals that take place on this day.
Kerosene lamps or diyas are lit and Goddess Lakshmi is worshipped. The most auspicious time for puja (worship) is from 6:09 PM to 8:04 PM. Worship can be performed in temples or at home by placing a red cloth on the puja chowki ('worship table'), placing an idol on it, and then offering flowers, fruits (water chestnuts, pomegranates, quince and coconut) and sweets. (especially Kesari Bhaat – semolina pudding with saffron, dry fruits and sugar) to Goddess Lakshmi, then prostrate in front of the idol and join your palms for prayer.
On the day of Diwali, families gather to exchange gifts and have a big meal. Many people wear their best clothes on this day and wish each other "Happy Diwali".
Day 4: Padwa: November 5, 2023 (Friday) Pratipada
The fourth day of the celebration is dedicated to the love between husband and wife, and men often buy gifts for their wives. Many businesses open new accounts on this day as it is considered auspicious.
Day 5: Bhai Dooj: November 6, 2023 (Saturday) Dwitiya
Bhai Dooj (Bhoweej), the last day of the festival is dedicated to brothers and sisters. To celebrate their bond, sisters perform a special ceremony for the protection of their brothers. Brothers give gifts to their sisters.
Diwali 2023: Date And Puja Timings
In some regions, the festival begins on Govatsa Dwadashi, a day when cows are worshipped. The day after Govats Dwadashi is celebrated as Dhanteras, which is considered an auspicious time for shopping. This year Govats Dwadashi will be celebrated on 1st November. Next day will be Dhanteras. Diwali will be celebrated on 4th November.
Amavasya Tithi will start from 6:03 am on 4th November and will continue till 2:44 am on 5th November. Lakshmi Puja and Ganesh Puja can be done on 4th November from 6:09 PM to 8:20 PM. According to the Drik Panchang, the auspicious time to perform Diwali Puja is after sunset, which is known as 'Pradosh'. Pradosh Kaal will be effective from 5:34 pm to 8:10 pm on November 4.
Diwali History
The festival has its origins in the Hindu epic Ramayana. When Lord Rama returned to Ayodhya after completing his exile and defeating Ravana, the residents of Ayodhya welcomed him by lighting a lamp. His return to Ayodhya is a symbol of prosperity and happiness, and the day is celebrated as Diwali.
It is believed that on the day of Diwali, King Rama of Ayodhya returned after his fourteen years of exile. The people of Ayodhya lit ghee lamps to welcome Shri Ram. That night of the intense black new moon of Kartik month was lit up with the light of diyas. Since then, Indians celebrate this festival of lights every year with joy and gaiety. Indians believe that truth always wins, lies are destroyed.
This is what Diwali means - Asto Ma Sadgamaya, Tamaso Ma Jyotirgamaya. Deepawali is a festival of cleanliness and light. Diwali preparations start several weeks in advance. People start cleaning their houses, shops etc. The work of repairing, painting, whitening etc. starts in the houses. People also clean and decorate the shops. The streets in the markets are also decorated with golden flags. Even before Diwali, all the houses, localities, markets look clean and decorated.
Diwali is a government holiday on Christmas Island on the outskirts of Nepal, India, Sri Lanka, Myanmar, Mauritius, Guyana, Trinidad and Tobago, Suriname, Malaysia, Singapore, Fiji, Pakistan and Australia.
Deepavali Importance
Diwali is one of the most enjoyable holidays in Nepal and India. People clean their houses and decorate them for the festival. This festival is great for Nepalis because from this day the new year starts in Nepal Samvat.
Diwali is one of the biggest shopping season in Nepal and India; During this time people buy expensive items like cars and gold ornaments and clothes, gifts, appliances, kitchen utensils etc. for themselves and their families. People generally give sweets and dry fruits as gifts to their family members and friends. On this day children hear from their parents and elders about ancient stories, tales, myths about the fight between good and evil or light and darkness. During this, girls and women go shopping and draw rangolis and other creative patterns on the floor, near the doors and on the streets. Youth and adults assist each other with fireworks and lighting.
Changes in practices and customs are found on a regional basis. Goddess of wealth and prosperity - Lakshmi or more gods are worshiped. On Deepavali night, fireworks light up the sky. Later on, the family members and invited friends celebrate Diwali at night with food and sweets.
Spiritual significance
Diwali is celebrated by Hindus, Jains and Sikhs to mark various historical events, stories or myths but they all signify the victory of good over evil, light over darkness, knowledge over ignorance and hope over despair.
The Yoga, Vedanta, and Samkhya philosophy of the Hindus believe that beyond this physical body and mind there is something pure, eternal, and eternal called the Atman or Atman. Diwali is the celebration of inner light over spiritual darkness, knowledge over ignorance, truth over falsehood and good over evil.