Teacher plays an important role in our life to be successful in career and business. A good teacher helps us to become good human beings in society and good citizens of the country. Because teachers know that students are the future of any country. Let us know what is the importance of teachers in our life. The importance of the teacher in Student's Life.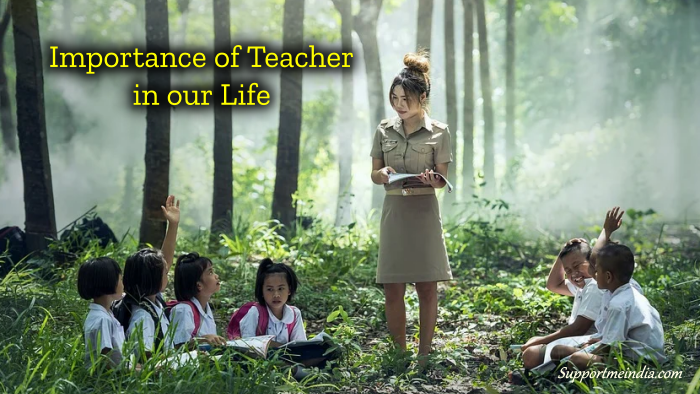 The future development of any country is in the hands of teachers. What we become in life also depends on the teachers. Teachers fill data and information into the minds of students for analysis. A teacher is very important in our life.
That's why the appreciation of teachers is very important because teachers are the most important people in the country. Whatever we are seeing in business, politics and society today is influenced by all the teachers. That's why we celebrate Teacher's Day in India every year on 5th September.
But today people do not know what has happened, their thinking and development are against nature. Now a teacher is just a teacher for the world.
Importance of Teacher in our Life
Today, people just give speeches on Teacher's Day and forget the teachers. Put some posts about teachers on social media and forget. Instead of learning from teachers, people forget them.
Students in the school celebrate the occasion of Teacher's Day a lot and respect the teachers, it is a very good thing but even better to follow the lessons of the teachers.
Teachers get happiness when a student becomes a good person and becomes successful in his career and business. Well, all teachers are not equal in education and all students are also not like disciples and gurus in the modern era. Whereas some teachers are great who always live in the hearts of their students.
Students depend on teachers for advice and guidance. Students are not only interested in academic lessons but also in following their life lessons on how to get ahead in life. This is the reason why teachers need to encourage students to follow good habits.
Education is essential in everyone's life because education plays different roles at different stages of life. So people must know the importance of teachers and follow their lessons.
We need teachers at every step of life. The teacher is important not only for the students but also for society. The presence of teachers in any meeting and social activities promotes ethics and makes time more valuable.
Parents are also called teachers when their children become what they wanted them to be. The teacher is not only human but they are like natural plants. Similarly, a leader is also a teacher because he teaches how to lead the company.
Teachers help us to be good human beings. A good person can contribute to the development of society. A developed society with good people helps others to be successful and happy. That's why we need those teachers in schools who think about the future of the country.
A teacher helps to become a great leader and a great leader makes a great nation. The leader plays a subsequent role in the personal development of an individual. A great leader encourages thousands of people to walk in the right direction. Not all good leaders will deny that they have learned this skill from their teachers.
Some students are great, it is not that they are born with greatness. They have become great because teachers have helped them become what they are today. This is the reason that teacher is the great person in our life who knows about the future.
A student is like wet clay in the hands of the teachers, which they can give any shape. If a student is taught well he becomes an important tool for society. If taught wrong, it can become a weapon of destruction.
But not all colleges and teachers are interested in inculcating the moral values ​​of the students. Colleges where teachers are giving education to students only for money.
Such money-loving teachers are driving the career of students on the wrong path. Such teachers produce corrupt politicians, doctors, bureaucrats.
So along with understanding the importance of teachers, parents of students should also keep in mind that they should entrust their child in a school where there are great teachers, teachers with professional, personal and social behavior.
It is also necessary that all the teachers should get social and financial help from the government. Because if they are worried about money, bad financial conditions then it is difficult for them to teach students. Therefore any nation must provide adequate facilities and focused educational development work for teachers.
Today we need to respect teachers and appreciate their efforts and contributions. Teachers need protection from the government. Teachers need infrastructure to educate the students.
Also Read
It is not easy to understand the importance of teachers in our life and teacher's life but we can help them by gifting them by becoming good human beings.