Everyone wants to know the things related to the Prime Minister of India, Narendra Damodardas Modi. Modi is discussed not only in the country but also abroad. Let's know 50+ interesting things about Narendra Modi. Narendra Modi as the 14th Prime Minister of India turns 70 in 2023. Here is the amazin, interesting facts and things about India's PM (prime minister) Modi.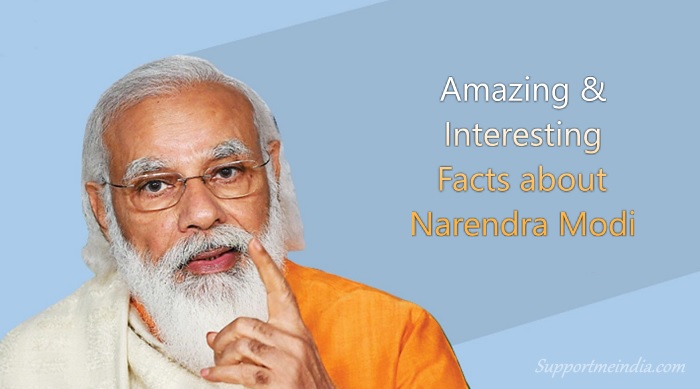 Every class, whether it is young, old, child, young, woman, man, no matter what, the name of Narendra Modi is definitely heard from everyone's mouth. Narendra Modi as Prime Minister is on the graph of the scale of popularity today. At the top of the time, they have left behind the popularity of big stars, cricketers or any section of the person and not only this, they have left behind big leaders on the world stage in terms of their popularity.
Indian Prime Minister Narendra Modi Amazing & Interesting facts in Hindi
There are many such interesting facts related to the life of Narendra Modi, which everyone wants to know, so today we know the interesting facts related to Narendra Modi, who lives as the choice of crores.
Narendra Modi was born on 17 September 1950 in Vadnagar to Damodar Das Moolchand Modi and Heeraben.
Narendra Modi is the second child out of 5 siblings.
Narendra Modi was called as Naria in his childhood.
Narendra Modi's father had a tea shop at the railway station.
During the Indo-Pak war in 1965, he served tea to the soldiers passing through the station.
Narendra Modi was completely different from ordinary children in his childhood.
Narendra Modi used to study in Bhagvatacharya Narayanacharya School of Vadnagar. Narendra Modi was an average student in the school.
He was fond of acting in his childhood.
In his childhood, Narendra Modi used to participate in acting, debate, plays and win prizes in school. Also joined NCC.
Once he took a crocodile child from Sharmishtha pond and brought it home. On the persuasion of the mother, they came back leaving her in the pond.
Narendra Modi was influenced by saints and saints in his childhood. He wanted to become a sanyasi since childhood.
Modi ran away from home after schooling to become a sanyasi. During this, Modi roamed many places including Ramakrishna Ashram in West Bengal.
Narendra Modi was associated with the RSS since childhood. In 1958, on the day of Diwali, the first province pracharak of Gujarat RSS, Laxman Rao Inamdar alias Vakil Saheb administered the oath of child volunteer to Narendra Modi.
He was a very hard worker. He used to show management skills in organizing large RSS camps. He was responsible for the reservation of RSS leaders in trains and buses.
Stayed with the sadhus for many months in the Himalayas. When he returned from the Himalayas after two years, he decided to give up his sannyasin life.
After returning from the Himalayas, Modi along with his brother also set up tea shops at many places in Ahmedabad. He sold tea, enduring every difficulty.
At the age of eighteen, Narendra Modi was married by his mother to Jasoda Ben, a resident of Rajosana village in Banskatha district.
Narendra Modi later left home and became a pracharak of the Sangh.
If Narendra Modi lived in the Ahmedabad Sangh Headquarters, he would have done all the small work there like cleaning, making tea, and washing the clothes of the elderly leaders.
Narendra Modi takes the blessings of his mother before starting any new work. After the victory in the election, he went to his mother and took blessings.
When Narendra Modi was a campaigner, he did not know how to drive a scooter. Shakarsinh Vaghela used to ride them on his scooter.
Narendra Modi got the arm of the kurta shortened in the Sangh, so that it does not get spoiled, which has now become the Modi brand kurta and is famous all over the country.
Narendra Modi, unlike other campaigners, kept a beard and also got it trimmed.
During the Emergency in 1975, he took the form of Sardar and kept dodging the police for two and a half years.
Narendra Modi has done a three-month course related to management and public relations in America.
Narendra Modi considers himself a writer and poet.
He has also written many articles related to Hindutva in Gujarati language.
Modi is greatly influenced by the great thinker and young philosopher Saint Swami Vivekananda. He took out 'Vivekananda Yuva Vikas Yatra' in Gujarat.
Narendra Modi is a vegetarian. He never touched cigarettes or alcohol.
Narendra Modi also takes care of every small thing. Like preparing it before the speech, hair, clothing style.
Narendra Modi is very punctual.
Narendra Modi takes only three and a half hours of sleep, he wakes up at 5.30 am.
LK Advani is considered the political guru of Narendra Modi.
In the 1990s, Narendra Modi played a big role in Advani's Somnath to Ayodhya Rath Yatra.
Narendra Modi is an optimist by nature. During a speech, he had said that people see half a glass full of water, but I see half a glass of water and half full of air.
While being the Chief Minister of Gujarat, Narendra Modi traveled to many countries, in which China is prominent. He watched China's development very closely.
As the Chief Minister of Gujarat, he organized the Vibrant Gujarat Summit and attracted industrialists from across the country and abroad for investment.
To attract tourists, he made Bollywood megastar Amitabh Bachchan as the brand ambassador of Gujarat.
Amitabh Bachchan did not take a single penny for this.
After protests against Tata's Nano car plant in Singur, Bengal, Narendra Modi sent Tata a message inviting him to set up a Gujarat plant – Welcome to Gujarat.
Narendra Modi is fond of kite flying. Like the skies of politics, they also cut the daughters of good kite-flyers in kite flying.
In the year 2005, Modi was denied visa by the US due to the stains of the Gujarat riots.
Narendra Modi is also very active on social media. His number of followers on Twitter and Facebook is in millions.
On August 31, 2012, Modi answered the questions of the public through web cam. Questions were asked not only from the country but also from abroad.
The Muslim fundamentalists in Gujarat were opponents of Narendra Modi, one of them was Zafar Sareshwala who went to London after becoming the Chief Minister and campaigned against him. Later when he met Modi, he became close to him.
Narendra Modi also used social media a lot in the Lok Sabha elections 2014.
He formed a publicity committee named Center for Accountable Governance, in whose hands the entire campaign was in command.
After assuming the command of Lok Sabha, people became interested in Modi and more than 40 biographies of his came in 2 months.
Many big stars in Bollywood are fans of Modi.
Narendra Modi still lives separately from his sisters and brothers.
Also Read:
So this was all the information related to Narendra Modi Hindi, do you know some interesting facts related to the Prime Minister of the country, then definitely tell in the comment. If you liked this article then do share it.