Dhaakad is a Bollywood spy-thriller action film starring Kangana Ranaut in the lead role. Directed by Rajneesh 'Raazi' Ghai, the film also stars Mimoh Chakraborty, Manoj Tiwari besides Kangana Ranaut. The film is based on serious issues like child trafficking and crime against women, Divya Dutta and Arjun Rampal will also play important roles.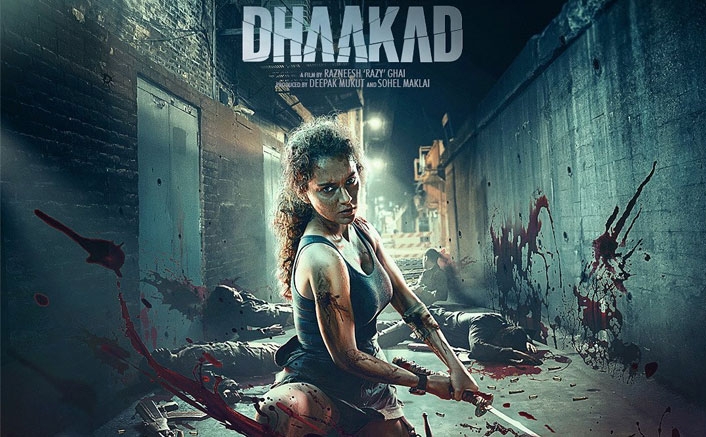 Earlier, the film was scheduled to release on 13 November 2023 but due to the COVID-19 pandemic, the release was postponed to 1 October 2023.
Bollywood actress Kangana Ranaut on Sunday announced the wrap-up for her next action film 'Dhaakad'.
The film is believed to be a world-class espionage thriller and Kangana will be seen playing the role of an officer in the film. The first look of the poster has been released and Kangana is seen in a fierce look. She plays Agent Agni in Dhaakad, which she calls 'India's first female lead action thriller'.
Kangna wrote on Twitter, "She is fearless and furious! She is Agent Agni – India's first female lead action thriller, #movie releasing in cinemas on 1st October 2023!
Talking about the film, Kangana earlier said, "The film is not only a benchmark film for my career, but will also be a turning point for Indian cinema. The film is made on a large scale, and it is a one-of-a-kind female-oriented action film."
"If it is well received, there will be no looking back for women in Indian cinema. Sohail and Raazi are my friends and we have been planning this project for a long time. I am very excited about this film and can't wait to start working on it."
Arjun Rampal also shared the poster revealing his first look for the film. In this he is shown as Rudraveer. Sharing the poster on his official Twitter handle, Arjun informed his fans that his character, is 'dangerous, deadly and cool at the same time'. All the posters are being loved by the audience and many fans have shown their enthusiasm for its release.
Written by Chintan Gandhi and Rinish Ravindra, the action-thriller is jointly produced by Sohail Maklai Productions and Asylum Films and co-produced by Qiqi Digital Media. The film also marks screenwriter Ritesh Shah's first collaboration with Kangana.
Sharing the third poster, Divya Dutta informed her fans about her menacing character Rohini in the upcoming spy-thriller film. In the poster, Divya looks quite bold and bold with smoldering eyes. She can be seen wearing a handloom saree with a shirt blouse. Her rustic look was complemented by oxidised silver accessories on her arms and legs. He can also be seen holding a cigarette in one of his hands.
Apart from Dhaakad, Kangana will soon be seen in upcoming films like Aparajita Ayodhya, Imli, Tejas and Tamil film Thalaivi which will release in multiple languages.
Dhaakad movie release date: 1 October 2023
Directed by: Rajneesh Ghai
Producer: Sohail Maklai, Zaid Ali, Deepak Mukut, Amit J Choudhary
Music: Dhruv Ghanekar | Sneha Khanwalkari
Writing Credits: Chintan Gandhi | Rajneesh Ghai | Rinish Ravindra
Dhaakad movie cast: Kangana Ranaut, Arjun Rampali, Divya Dutta, Niloy Rashid Zaki, Sharib Hashmi, Ankit Pachauri, Neeraj Pradeep Purohit
Dhaakad movie review
Coming soon… Please feel free to share your thoughts in comments below.
Brief description of Dhaakad movie
Dhaakad is a Bollywood action spy-thriller film directed by Rajneesh 'Raazi' Ghai, starring Kangana Ranaut, Mimoh Chakraborty, Manoj Tiwari, Arjun Rampal.
Dhaakad Movie leaked by Tamilrockers
Tamilrockers is a pirated website, who leaked this movie and offer free download on different pirated websites. People downloaded this movie without paying cost, movie makers get big loss. Dhaakad movie available for Download in Full Hd (1080p, 720p, 480p) quality.