Cricket is inarguably the most beloved sport in India. Players like Virat Kohli and MS Dhoni are national darlings for their heroes in the cricket world.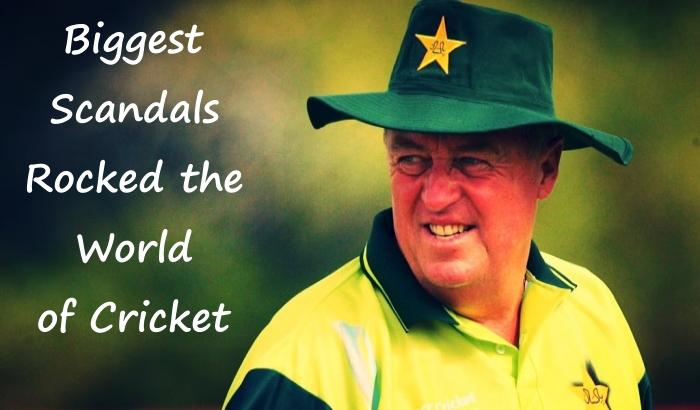 When they grace, we are stuck to our screens, salivating about their next supernatural move, while punters flock to top bookmakers like Betway (thoroughly reviewed on https://www.telecomasia.net/in/sports-betting/reviews/betway/login/) to stake on them pulling off magical plays.
6 biggest scandals that rocked the world of cricket
But despite how merrily cricket has warmed over hearts over the years, the game has not been without scandals. Some of these scandals were so upsetting they rocked the very foundation of cricket.
Which are the most prominent controversies cricket has seen in its history?
1. Bob Woolmers Death
Bob Woolmers was one of the most reputed and respected Cricket professionals during his time. He played for the England Cricket Team and teams like Kent and Natal.
Upon retiring, he coached Waewhishire, Pakistan, and South Africa.
Unfortunately, the end of this man would be one of the saddest and most mysterious moments in Cricket history. It was on March 18th, during the 2007 World Cup. Ireland had just knocked out Pakistan from the tourney, and Woolmers retired into his hotel room.
To the dismay of the Cricketing world, he was found lifeless a few hours later.
The police wasted no time trying to unravel the course of his mysterious death. While initial tests suggested that he died of strangulation, further official investigation revealed that he died a natural death. To date, his exact source of death remains a mystery to many.
2. Trevor Chapel Underarm Ball
Fans love Cricket because a vast majority of it is fair play. However, some professionals have tried to win shadily. While most get punished, some have gotten away with it.
In 1981, neighbors Australia and New Zealand faced off at the Benson and Hedges World Series Cup. New Zealand needed to score six runs in the final ball to tie, and both the bowler (Trevor Chapel) and batter (Brian McKechnie) were ready.
Instead of the bowler throwing any of the delicious bowl styles that we all grew to love, he carefully rolled the ball slowly along the ground. This move infuriated the batsman, and he threw his bat in disgust.
Although Australia did win the match, it remains one of the most infamous scandals in the sport's history.
Trevor Chapel's infamous underarm ball wasn't illegal when he did it, but the ICC realized it should be after it happened. Reports later clarified that Trevor only obeyed the instructions of his brother and captain, Greg Chappel.
3. "John the Bookmaker"
One of the crickets' best-ever players, Australia's Shane Warne was involved in one of its biggest scandals. Shane and his Australian teammate Mark Waugh supplied pitch information to an Indian bookie identified as "John the Bookmaker."
Both athletes received a healthy sum of money for their shady deal but were exposed and punished by the Australian Cricket board.
However, the Cricket world was angered by what they labeled a "lenient" punishment from the board. It's widely believed that the Australian Cricket Board failed to impose proper punishment on these two athletes due to its ulterior motive.
Notwithstanding, the incident remains one of Cricket's biggest-ever scandals.
4. The Match Fixing Scandal of 2000
Next is arguably the gravest match-fixing scandal in Cricket history, "The Match Fixing Scandal of 2000." It involves many players from different countries, but they all committed the same offense; accepting or offering money to change the outcome of games.
The man at the forefront of these scandals was South African Cricketer; Hansie Cronje.
Although he vehemently denied the accusations, he would later confess his guilt to Ali Bacher. Several former teammates of his also confessed to match-fixing during the span. It even flew across the continent, and Pakistani cricketers like Saleem Malik and Indian cricketers Mohammad Azharuddin were involved.
Hansie Cronje did pay for his sins because he was banned for life from Cricket. Unfortunately, he would die in a plane crash two years later.
5. England Boycotts the 2003 World Cup
The 2003 edition of the Cricket World Cup was the first to be played in Africa. Zimbabwe, Kenya, and South Africa co-hosted the tournament. However, many visiting teams are concerned about the security in Zimbabwe and Kenya.
This security concern led to England's boycott of the tournament, knocking them out of the competition. New Zealand also refused to play their game against Kenya. Kenya made it to the competition's semifinals for the first time in their history due to New Zealand's boycott.
6. Pakistan Ball Tampering Allegations
August 20, 2006, was remarkable to the Cricket world. It was the first time in Test matches history that a team would win by forfeiture.
However, how it happened was controversial. Referees Billy Doctrove and Darrell Hair accused Pakistan of ball tampering and awarded England five penalty runs. The Pakistani team abandoned the game and refused to return even after the referee imposed a deadline.
Both umpires later ran out of time and declared England the winner by forfeiture. Although Pakistan did return to the pitch to continue the game, it was already too late.
Conclusion
Every sport has scandals, and Cricket isn't left out. From match-fixing to in-game trickery and even saddening deaths, these are Cricket's six best scandals of all time.